If you want better online marketing performance use a "customer buying experience" or "customer buying cycle" approach.
YOU CAN FIX IT FOREVER!
Today, you can identify, measure and optimize the key factors that determine your marketing success. The "Customer Buying Experience" image below shows you the steps to take, and the following text explains each step in more detail.
Image 1: Customer Buying Experience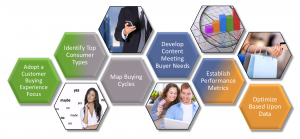 If you've decided that your online marketing dollars need to perform better, or you want help with any aspect of your digital marketing, your next questions may be how can I fix this, and who can I trust to help me.
The answer to the first question is to follow each step of the process detailed below. In the end you will have 1. Learned how your customers learn about, choose, and acquire your product or service, 2. Measured the key actions that convert prospects into leads, customers, and a referral sources, and 3. Used your businesses measurement data to optimize your lead development, nurturing, and conversions.
FOLLOW THESE 6 STEPS!
STEP 1: Adopt a customer experience focus to your marketing.
Align your marketing to meet the needs of your top buyer personas as they move through their buying cycle. Start from the moment someone realizes that they want what you offer (awareness), throughout their (consideration) of what products, services, and providers meet their needs, and continue until they transact business with you, or your competitor (purchase).
STEP 2: Identify your top customer types.
Categorize your highest revenue, highest profit, and longest term customers. They should have many qualities similar to your best prospects. Read the article "Simple Steps to Identify Your Most Valuable Customer Types" to complete this task in a few days.
STEP 3: Map your top customers buying cycles.
You can accomplish this by surveying your top customer types about their buying experience. Examples might include; why did they choose my company, how long did it take you to make a decision, and what were the key factors in their decision? Ask questions that inform you about your customers' needs, priorities, decision triggers, and purchasing time frames. Once you have information from 10 to 20 past customers, you'll have a better understanding of who they are. Once you've identified your top customers buying behaviors and purchasing triggers, you can deliver the right message at the right time using the right media, and influence their purchasing decision.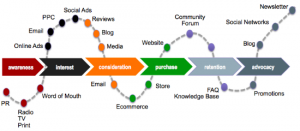 STEP 4: Develop and offer content, services, and incentives that meet your buyer's needs.
In the U.S. and in many overseas locations active buyers have easy access to lots of information about you, your competitors, and your products and services. This information is available anytime, and anywhere. Active buyers may be searching, learning, considering, comparing, and taking actions, including transacting business, without leaving their home or office. They are more knowledgeable and less patient. You need to learn what they want, when they want it, and how they want to access it. Once you complete this step, you can direct your marketing and messages throughout the customer's buying experience, influence their choices, and convert lookers into buyers and customers.
STEP 5: Establish key performance metrics to measure and review how you are attracting, engaging, and converting searchers to prospects to customers to referral sources.
Decide what really drives your success. Is it the number of calls that you get, people who schedule appointments, downloads of your content, users of your app., visits to your physical location, or something else. If you don't know what to measure, you may be tracking performance that doesn't drive your business to success. If you don't measure your key business drivers at each stage of the marketing cycle traffic, you won't know if you're getting better or worse results. This leaves is your marketing results to chance instead of facts and data.
This is one of the major reasons that most marketing underperforms.
STEP 6: Continue optimizing your marketing based on the information from your performance metrics.
Your results will show you were your marketing is working, and were you need to improve. The bottom line is that if people can't find you when they're actively looking for your product or service they'll find your competitor. If you don't engage prospects who do find you they'll leave and find someone who will. Finally, if you're not converting prospects into customers your marketing will become an expense and not a revenue driver.
If you invest in any marketing without knowing your basic customer information you're dramatically increasing the risk that your marketing is going to underperform.
Simply put, without accurate and relevant marketing information you are just guessing at what your potential customer wants, when they want it, and how they are getting it.
WHO SHOULD YOU TRUST TO HELP?
You have a lot of options for getting help. Maybe you have marketing experts on your current staff who can execute this process. If not, you can hire experts of all shapes and sizes ranging from large advertising agencies, contract professionals, big vendors like Google, Yelp, and Facebook, and local marketing firms. All of them will sound like they know what they're talking about, and most of them may even sound good enough to hire. Maybe you've already listened to multiple marketing companies tell you what's wrong with your website and your marketing. Almost without fail, each company's products and services were probably pitched as the solution.
Frankly, it's not hard to understand why it's hard to find the right experts. Just go to the Better Business Bureau or any one of the leading complaint websites and you'll see many marketing agencies and vendors with complaints against them. Many marketing firms are overpromising results to get new business and then underperforming because they don't have the skills, experience, or resources to deliver. You'll get closer to finding the right marketing experts by asking yourself which marketing agency, consultant, local marketing firm, or vendor asked you the following questions;
Who are your top customer personas or types?
What need(s) does your product or service meet for your top customers?
Why do your customers choose you over your competitors?
What triggers your top customers to buy?
How are your top customers finding information about your product or service?
What is each new customer's financial value to your business?
What is your customer's buying experience like when they're shopping for and purchasing your product or service?
Get the idea? Marketing experts that focus on your customers instead of your marketing are on the right track.
When the firms you're considering are talking about traffic, SEO, PPC, old looking websites, business listings, and how their products and services are the answer, find a different resource. When they start talking about your business, your customers, what drives your success, and how your marketing performance is measured and optimized give them a good listen.
You are not alone. We see organizations of all types and sizes struggling how to maximize their marketing. If you were to ask other executives in your industry to quantify the success of their current marketing, most of them would struggle to provide a detailed answer. Even fewer would be able to share measurable data like the cost to acquire a new customer, or how many new customers their marketing generates each month, or the amount of new revenue generated from their marketing activities. One of the primary reasons that they can't tell you is because they don't have customer experience focus to their sales and marketing.
Hopefully, this article gives you a path to success. If you're confused or want more help, let us know how we can help. For more information or to discuss your situation go to www.urwaconsulting.com, Email: info@urwaconsulting.com, or Call (303) 223-4988.